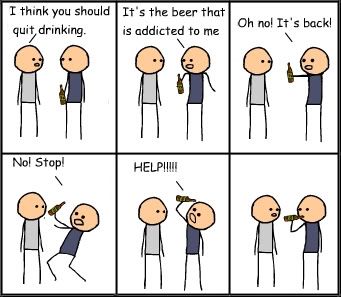 Let's face it. Most of us are a bunch of drunks. If you've ever passed out, fell out, crashed a car, cussed someone out, threw up, fucked some stranger, fucked someone ugly, fucked your best friend...chances are you did so because you were drunk.
Most of us drink more than one time a week. Most of us are alcoholics. Just cause you can get up in the morning and go to work and aren't selling ass for wine or hanging in front of the liquor store doesn't mean you aren't a drunk. But there are signs that mean you aren't an alcoholic. Of course, me being the expert that I am, I'm here to tell you how to know you are NOT an alcoholic...cause let's face it...most of are alcoholics and just can't tell the difference from not being one cause well...we all are.
1. You Get Hungover - You went out drinking. You sat at home drinking. You wake up with a killer hangover. Everytime you drink you wake up with a killer hanger. Drunks don't get hungover. Drunks wake up and feel .....normal. This is because a drunk's body has adjusted to the amount of drinking they do. An alki drinsk so damn much, that their bodies have already adjusted to the level of drinking that it sets itself up to get ready for the alcohol they are getting ready to inject into it. Don't give me that "I drank water" bullshit, cause the fact that an alki knows to drink some damn water in the first place is just another sign they drink too damn much. If you don't get hangovers, then you drink a whole fucking lot. Your body can handle it. You're an alki
2. You don't like to go out - I'm not talking about not liking the movies and dinner. I'm talking you don't like to hang places where people are drinking. You can't stand bars, clubs or anything of that nature. You are also a damn bore when you try and make yourself go to drinking parties and places. Do us a favor and stay your sober ass home. Anyone who likes the nightlife and drinking scene is an alki. Period. Otherwise you wouldn't go out at all...it would be too damn lame. It's weird as fuck being around a bunch of drunk people and not relate. It's like they're speaking another language.
3. You Don't Have a Preference for a Drink - True drunks have a preferred libation for getting twisted. Some like dark, light, wine, champagne even. But you non drunks...you mofos like to order something "fruity" when you go out cause you have no idea wtf you wanna drink because you don't drink. Then that fruity ass drink is always "too strong". FOH. Stfu and why are you even OUT? You coulda drank koolaid mixed with simply lemonade at home. You are going to annoy your friend by hitting her up saying "I'm ready to go when you are". Worse is you follow the trend and buy that nasty ass Redberry Diddy's drink and bring it to a party...then mix it with half a gallon of cranberry juice talking about you drunk. Bitch please
4. You Can Keep Liquor in Your House - If you got liquor under the cabinet or in the fridge or freezer and it's been there a week or more...your ass isn't an alki. Everyone else knows that if you got drink in the house, it's normally going to be drank up in 2-3 days max. The only way you don't drink up all the liquor in your house in a couple days is cause there is none in there to begin with. If you gotta keep liquor out of the house to keep from drinking it, you are, in fact, an alcoholic.....because you have no self control.
5. You Prefer Mixed drinks - Same as not having a preference. Mixed drinks are some shit. The only acceptable mixed drinks alkis prefer are those of the Iced Tea and Margarita persuasion. Drunks know all those other mixed drinks are bullshit. Actually, drunks prefer to drink their liquor straight anyway..sometimes out of a bottle.
6. You Wonder How Other People Drink So Much - Shut your lightweight ass up. You had 2 drinks one night, fell asleep or woke up with a hangover and promised to never drink again. But your friends are going to yet ANOTHER happy hour. You just simply cannot do it this time and wonder how the fuck they drink so much or wonder why they have issues. Shut your lame ass up. They don't want you going with them to happy hour anyway. You're boring.
7. People Notice When You are Drunk - Drunks act the same all the time...cause they are always drunk. You sober mofos have a totally different personality when you are drunk. You piss yourself, throw up, fall out, curse someone out, talk loud, do karaoke, moon someone, jump in the pool naked, whatever....soon as you are not drinking, you "forget" what you did last night and go back to normal. But people are still talking about you the next day cause you were sooooooooooooo out of character. Drunks are drunk all the time so people have seen the ill, drunk, crazy behavior before. It's nothing new to see a drunk act a mess, but when your lame ass gets drunk...people take notice....and they talk about it all the time, for the rest of your life. The only way to stop them from talking about you is to become a drunk.
So If you aren't an alki, that's fine. That's healthier. But healthier people are lame. Safe is boring. Have some drinks and do something stupid. I hear you grow more livers to accommodate the more alcohol you consume. No one trusts people that don't drink anyway. Especially if they have no problem hanging with drunks. It just doesn't seem natural to us alcohol abusers. Makes us want to hide our purses or call the police or something.
CHEERS ALL!!!!